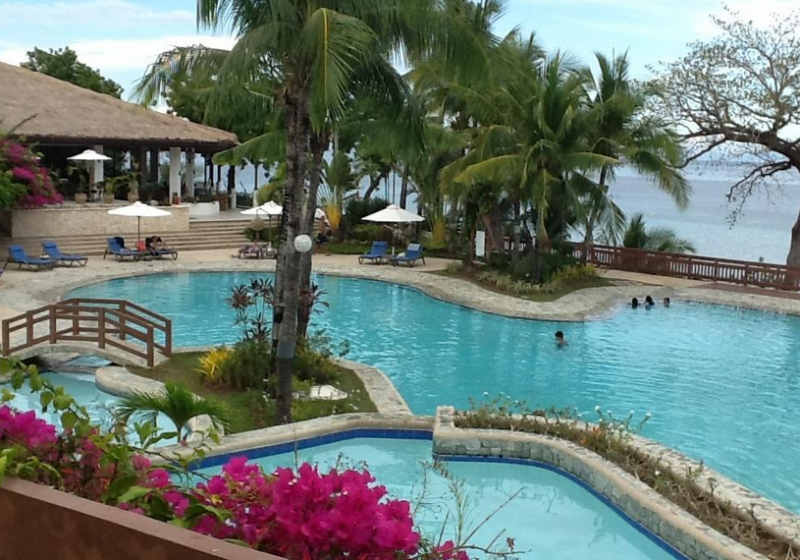 Alegre Beach Resort is a 5-star resort that has already been a popular getaway for different local and international tourists not only in the northern part of Cebu but throughout the country. Even though the resort is quite popular, guests can still expect privacy and exclusivity, thanks to its 7-hectare lot area. Guests will always have the chance to enjoy unwinding while trying to forget the busy days in the city or at work even just for a moment. BOOK HERE!
Moreover, the resort offers only the best to its honored guests and visitors. Having the amenities of a 5-star resort, it provides you great services with its accommodating hosts. Vacationers will certainly find peace with its natural beauty.
Amenities
While the reality is that Alegre Beach Resort is away from the bustling part of the city, the resort crafted amenities, facilities and activities that ensure a fun, entertaining and unforgettable experience for its guests.
At the resort, you can eat breakfast, lunch or dinner as it has its own restaurant that offers a lot of dishes to choose from. Guests can also opt to stay at The Cliff Seafood BBQ and Bar, a perfect place to stay when the night sets in. The resort also has its bar and lounge at the Pavilion, which is situated in a cliff, that serves international cuisine.
You will love dipping into the water with its marvelous blue sea and an elegant swimming pool that you can use anytime you want. You can take a quick rest at their poolside bed while enjoying the breeze coming from the palm trees and the wonderful flowering plants that surround the resort.
Alegre Beach Resort also has tennis court, billiards table, gift shop, business center and laundry services. Free access to the internet is also provided. You can also arrange island hopping to other places, such as Kalanggaman Island, which is known for its white sand bar, and Capitancillo Islet in Bogo.
Rooms
Alegre Beach Resorts offers different types of room for its guests. You can choose the Deluxe with 2 double beds and equipped with air conditioning units, cable TV, private bathroom and with ocean view. They also offer luxury cabanas with private bathroom, mini bar, air conditioning and a large veranda and coffee/tea maker.
All guest rooms are offered with a free breakfast at the resort.
Other Information
To get to the resort, you can take a taxi from the Mactan International Airport that would cost around P2,000. If you have your private vehicle, it's a 90-minute drive from the city. You can also take a bus from the North Bus Terminal that would only cost you P100. BOOK HERE!
Alegre Beach Resort also offers pick-up service from anywhere to the resort itself.
Address: Calomboyan, Sogod, Cebu 6007
Contact: (032) 231-119