Flowers are a proud assertion that a ray of beauty out-values all the utilities of the world. They are seemingly magical and intended for the comfort and consolation of mankind. Yes, a lot of them you can catch sight of at Cebu's highlands in the hilly part of Busay, the Terrazas De Flores Botanical Garden. Many visitors flock to this place because of its immense beauty in a hue. It is a place of comforting and calming that many sightseers never get weary of.
Terrazas de Flores is one of the newest cafes (plus attraction) here in Cebu. It is a mere 15-minute drive from Cebu City. For those who are familiar with La Tegola Busay, the Terrazas, located in Malubog town in Cebu City, is only five minutes away by car. The floral attraction is the first of its kind in the Philippines.
The name implies how such beautiful living things are arranged. The flowers are organized in terrace platform, where contrast of beauty, specie and colors compete. It is one of Cebu's sanctuaries where you can relax, muse and unwind away from the hustle and bustle of the city. There are 100 types of flowers blooming around, 127 species of plants and florets. While mesmerized by such artistic display, you can enjoy sweet treats, coffee, refreshments, gelato, wine and local delicacies too as a bistro can be found amongst the flowers. The café is adorned with work of art, giving it a creative, cozy vibe.
Yuri Barrameda started making the beautiful floral terraces in 2009 with the help of local farmers in Busay. His inspiration? His love for his three kids. Onsite are lovely cabanas where you can rest and loosen up with its cushy and soft setting. You can rest in any of the cabanas while listening to good music, talking with your companions, or simply sitting around while taking in the beauty around you. The atmosphere and floral magic makes Terrazas de Flores a romantic hideaway for everyone.
Beyond the beauty that it offers, Terrazas de Flores also has its educational aspects. You will get a quick introduction to the different species of flowers in the display, thanks to their name tags. A single visit will introduce you to over a hundred different species of flowers identified by the management of Terrazas with the assistance of the University of San Carlos Biology Department.
The botanical garden has taken up half of the 2-hectare garden. It is still under progressive so if you will visit later, you will still have a lot of things to look forward to. For now, there is a ground for camping purposes and other amenities within the area.
Terrazas de Flores accepts reservations for weddings, anniversaries other romantic events. It is such a lovely and conducive place to hold such occasions because flowers can add a feeling of excitement. Reservations are made through calling the Terrazas management at 0917-653-4227 or their Facebook page.
The floral attraction is open from 8 am to 9 pm. It is located is along the Cebu Transcentral Highway in Brgy. Malubog, just 900 meters away from Busay. The site can be reached also through motorcycle rides or the habal-habal for P75 per person.
The botanical garden is a terraced landscape so one can expect a climbing task. Reaching to the top gives the magnificent beauty of the place so the walking and climbing will be worth it. Just make sure to wear comfortable footwear.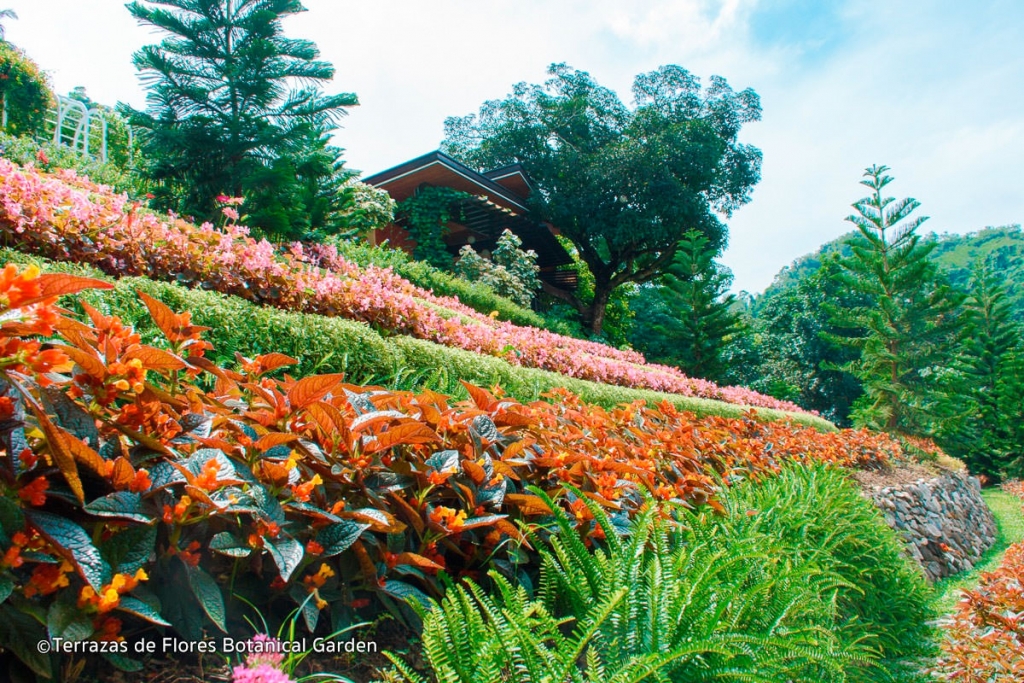 Most importantly, visitors must be responsible enough being there. The flowers are very fragile and need to be maintained and unharmed. After you've enjoyed them, give other people the chance to enjoy them, too. Take photos, but don't touch the delicate flowers.
You can enjoy the flowers at the botanical garden for only P100, P40 of which is consumable.
So what are you waiting for? Come and see in amazement the only floral terrace of the country. The panoramic view and the floral scent can give you the de-stressing moment that you need. It is the perfect hideaway for anyone.